Woodcroft College (Morphett Vale, South Australia)
Woodcroft College is an independent, Anglican, co-educational, day school for students from Reception to Year 12. Despite being named for the southern Adelaide suburb of Woodcroft, the school is situated in the suburb of Morphett Vale. Founded in 1989, the college is currently celebrating 24 years of operation. Woodcroft College is an International Baccalaureate (IB) World School and consequently, the Junior School runs on the IB Primary Years Programme whilst the Middle School follows the IB Middle Years Programme Year 11 and 12 students are offered three curriculum pathways; the South Australian Certificate of Education (SACE), Vocational Education and Training (VET) and the International Baccalaureate Diploma Programme (DP).
Woodcroft College aims to prepare students for future study and equip them with the knowledge, attitudes and skills they need to gain worthwhile employment, be responsible citizens in a global society, and lead their lives according to Christian beliefs and values. Woodcroft College offers a variety of facilities, all set in spacious, landscaped grounds with modern buildings and extensive playing fields. Specialist teaching areas are well-equipped with up-to-date resources and information and communications technology.
Across the year levels the curriculum is broad and diverse. It encourages the pursuit of academic excellence, yet caters for individual differences in learning styles and abilities. It meets the students' intellectual needs, yet satisfies their physical and emotional needs, and encourages them to achieve their potential in all areas of human endeavour – from the performing arts through to the creative arts, outdoor education, sports and leisure-time activities. It encourages students to become confident, active, resilient, self-reliant and successful life-long learners. And it allows them to grow in faith through Religious and Values Education, corporate worship, and service to others in school, local community and international projects.
Outdoor Education
Outdoor Education aims to develop the qualities of perseverance, community spirit and selflessness in students. Year 10 students take part in a four-day camp at Tuilkilkey Station in the Mid North. Tuilkilkey aims to develop community spirit, perseverance and selflessness in students. The Duke of Edinburgh Award Scheme is designed for the 14 to 25 age group. It has three attainment levels (Bronze, Silver and Gold) and aims to develop leadership skills, self-awareness and perseverance.
Hospitality & Skills Centre
As a Registered Training Organisation, the Hospitality & Skills Centre offers training packages in Certificate I and II Hospitality (Kitchen Operations). It also offers short courses which are suited to school-aged children.
For more informaion, please write to StudyAustralia EU <- click for e-mail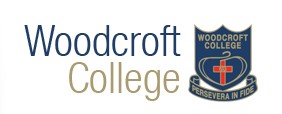 Study at Woodcroft College
Through its curriculum, co-curricular program and pastoral care structure, Woodcroft College aims to give students a global perspective and help prepare them for citizenship in a democratic, multicultural society. As members of the school community, students learn not only to value their own individuality, but to show tolerance and respect for the rights of others; they learn to appreciate social, religious and cultural differences among people; they are encouraged to grow in self-respect and take responsibility for their appearance and conduct; they learn to accept the consequences of their own actions; and they gain experience in decision-making and leadership.
Woodcroft College aspires to be a vibrant, innovative learning community where students develop in a cooperative, success-oriented learning environment; where staff teach and work in a professional, collegial environment; and where parents are involved as active partners in their children's education.
Through its international focus, Woodcroft College provides students with a global perspective on education, culture and contemporary issues.
The aim of the Program is to:
increase cultural awareness and understanding of local students;

enable the Woodcroft College students to experience the global community in their everyday lives;

broaden the cultural mix of the student body; and

provide opportunities for the Woodcroft students to participate in the global community.
Woodcroft Intensive School of English (WISE)
International students can enrol in a twenty-week Intensive English course. As graduates, they can enter mainstream classes in Years 10 and 11.
TUITION FEE 2021
AUS$ 39,180 Four Terms (39 weeks) fees including homestay
AUS$ 700 College Enrolment Fee
AUS$ 1,000 Homestay Bond (refundable at end of period of study
if approved)
AUS$ 1,200 School Uniform - Estimate (includes winter, summer
and sports uniform)
AUS$ 125 Aiport Collection
Term Dates 2021
Term 1: Wednesday 27 January to Thursday 8 April (11 weeks)
Term 2: Tuesday 27 April to Thursday 24 June (9 weeks)
Term 3: Tuesday 20 July to Thursday 23 September (10 weeks)
Term 4: Tuesday 12 October to Thursday 9 December (9 weeks)