South Australian Government Schools (Adelaide, South Australia)
South Australian Government Schools are accredited to deliver quality international student programs to high school students studying abroad in South Australia. Study in a South Australian government school and you will improve your English language skills and have access to the latest science, technology, music and sporting facilities. You will also receive the care and support you need to succeed in your studies and prepare for your bright future ahead.
South Australian Government Schools has been providing study abroad experiences to international students since 1989. There are 100 government schools in metropolitan Adelaide and regional South Australia accredited to deliver the International Student Program. We currently welcome over 1000 students from 35 countries to our schools. Both local and international students have the opportunity to meet and mix with other cultures and become global citizens.
Safety and wellbeing
South Australian Government Schools places great importance on the safety and wellbeing of all international students and maintains a 24 hour emergency contact service. Our support service starts before a student leaves their home country and continues throughout their study program to ensure students settle into life in South Australia and enjoy their experience at school and in their homestay.
High level of service
South Australian Government Schools prides itself on offering a high level of service and has extensive experience in developing and managing innovative professional development training programs for schools, government departments and businesses from around the world. We have the capacity to individually customise training programs to suit the development and learning needs of the group.
Training and support
South Australian Government Schools provide training and support to all families who host our international students, including a 24 hour emergency contact service. Each family and student is matched together according to each others needs to ensure a compatible and enjoyable experience.
Study Tours
South Australian Government Schools welcome groups of students from all over the world to participate in a Study Tour. A Study Tour is designed for groups of students and their accompanying teachers wishing to experience the English language, lifestyle and landscapes of South Australia. Study Tours are short term programs, generally range from 1-6 weeks and are custom designed to suit the needs of the group. Larger Study Tours can be hosted across a number of South Australian government schools. To participate in a Study Tour, students must be 10 years of age or older.
Study Tours can include:
English tuition

school integration

special interest studies

homestay accommodation

tourism excursions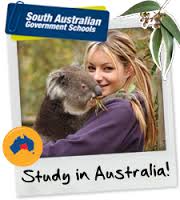 Study in South Australia 2023

Choose the right metropolitan or regional high school for you. We have many quality accredited South Australian government high schools for you to choose from. Our high schools offer a broad range of subjects to suit your individual interests and ambitions including music, sports, mathematics, science, multimedia, performing arts and information technology.
Ask for information on the High School Graduate Program and the Primary School Program of for the short stay possibilities.
Adelaide Metropolitan High Schools
Aberfoyle Park High School
Adelaide High School
Australian Science and Mathematics School
Banksia Park International High School
Blackwood High School
Brighton Secondary School
Charles Campbell College
Glenunga International High School
Hallett Cove School
Heathfield High School
Henley High School
Le Fevre High School
Marryatville High School
Mitcham Girls High School
Reynella East College
Roma Mitchell Secondary College
Seaton High School
Seaview High School
Underdale High School
Unley High School
Wirreanda High School
South Australian Government high schools located in regional South Australia.
Eastern Fleurieu School
Grant High School
Kangaroo Island Community Education
Mount Gambier High School
Murray Bridge High School
Victor Harbor High School
Study Abroad Programs (2023 prices)
May include 1, 2, 3, or 4 terms of Intensive Secondary English Course (ISEC) or Intensive Primary English support
High School Study Abroad Program (HSSAP) 2023
Years 7-10 including Homestay and insurance 2023
1 term AU$ 8,460
2 terms AU$ 15,740
3 terms AU$ 23,020
4 terms AU$ 33,299
Years 11-12 including Homestay and insurance 2023
1 term AU$ 8,810
2 terms AU$ 16,440
3 terms AU$ 24,070
4 terms AU$ 31,699
Regional Study Abroad Program (RSAP) 2023
Years 7-12 including Homestay and insurance
1 term AU$ 7,580
2 terms AU$ 14,860
3 terms AU$ 22,140
4 terms AU$ 29,419
Pre-departure information and Reception at Adelaide Airport plus a Welcome and school tour and Orientation program
School textbooks and initial stationery pack
Student support services in school (including personal counselling) and Subject and career counselling in school as well as Ongoing English language support
Student reports or School transcript where required
Overseas Student Health Cover (for student visa holders only)
Homestay accommodation
24 Hour Emergency Contact
More information please contact StudyAustralia EU <- click for e-mail