Macquarie Grammar School (Sydney, New South Wales)
A 21st Century Grammar School. Founded this century in 2004, Macquarie Grammar School Ltd is uniquely attuned to the needs and aspirations of young students. We offer students from all walks of life the opportunity to excel in their chosen field of endeavour, be it the professions, business or academia.
Macquarie Grammar's Learning First approach offers a focused curriculum that prioritises academic attainment with a "back to basics" philosophy. We consolidate learning in the core subject areas that are most important to the HSC and a future rewarding career. Freed from the distractions that are often built into the curriculum at other Schools, Macquarie Grammar students are able to reach their full academic potential.
Open for Years 7-12, Macquarie Grammar offers a calm, friendly, professional and focused environment for students to prepare for their HSC. Macquarie Grammar's entire curriculum, learning environment and activities are designed to meet the needs and interests of senior students.
Located in the CBD, Macquarie Grammar's learning environment reflects the future professional surroundings in which students will work, learn and socialise throughout their adult lives. Right by the QVB at Town Hall, we are central to all Sydney's transport networks. Macquarie Grammar School leads in the state in the percentage of our teachers (88%) who hold postgraduate-level qualifications in the subject areas they teach.
Macquarie Grammar is big enough to offer a strong HSC portfolio, and small enough to care about the individual progress of every student. Macquarie Grammar teachers reach out to every student, to help all students reach their full potential.
Because Macquarie Grammar is located in the Central Business District of Sydney, students have immediate access to some of the world's best academic, sporting and cultural sites. The fitness programme operates at the Olympic-standard Ian Thorpe Aquatic Centre and the sports fields in Sydney's Domain. It is a short stroll to the State Library, Sydney Library, Conservatorium of Music, Powerhouse science museum, the NSW Art Gallery and the Australian Museum. Best of all, usage of these wonderful facilities enables School fees to remain allocated entirely to academic pursuits.
Macquarie Grammar School is proud to announce that it offers homestay accommodation through its established partnership with Australia's leading homestay provider, Australian Homestay Network (AHN). Homestay is a cultural exchange between a local individual or family (the host) and a visiting student; the student lives as a guest in the host family's home.
For more information, please contact StudyAustralia EU <- click for e-mail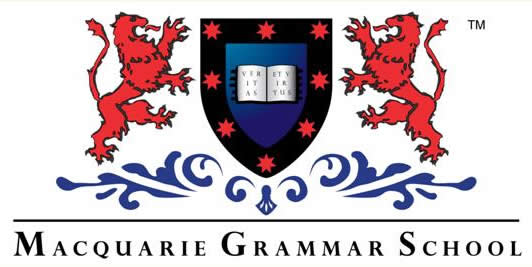 Study at Macquarie Grammar School
Macquarie Grammar's courses are well structured and are delivered by experienced and highly qualified teachers. Students will experience interactive face-to-face blended learning, participate in interesting case studies to develop their knowledge and further their analytical skills, and be provided with challenging group projects that also broaden their team skills. Upon successful completion of the course, students will gain valuable skills to independently analyse issues from facts and appropriately apply learnt knowledge to produce sound solutions and strategies.
Years 7-10 High School Programme
Delivery is at 225 Clarence Street, involving supervised face-to-face teaching in classrooms conducted in English, on a full-time basis, including presentations, student demonstrations, exercises, group work, projects, research, site visits, and guest presentations.
For Years 7-10, Macquarie Grammar School o ers subjects in the Key Learning Areas of the Board of Studies NSW curriculum, ie the traditional subjects of English; Mathematics; Science; Geography; History; Personal Development, Health and Physical Education; Visual Arts; Commerce; Drama; Technology and Music are taught. The scope and sequence documents and teaching programmes are produced by the Macquarie Grammar School teaching staff, in compliance with the Board of Studies NSW.
Year 11 (Preliminary Course)
For Years 11 and 12, subjects are defined as 'Units' for the NSW Higher School Certificate. Each candidate is required to complete 12 Units in Year 11 and a minimum of 10 Units in Year 12. University entrance is calculated on a student's best 10 Units, including 2 Units of English. All subject choices should be discussed with the Deputy Principal or Principal.
The Year 11 Course is the first part of the two-year programme that leads to the NSW Higher School Certificate, the most recognised pathway for University entry. After satisfactorily completing the three-term Preliminary programme, Year 11 students are eligible to commence Year 12.
Year 12 (Higher School Certificate)
The Higher School Certificate (HSC) Course begins in the fourth Term of Year 11 and continues through to Year 12, in the following year, up to the HSC Examinations, i.e. for four+ Terms, to Term 4 of Year 12. Students are required to study a minimum of 10 Units for the HSC. The only compulsory subject is English. Students continue to study their elective subjects from Year 11. Assessments in Year 12 are very important because they form a significant part of the student's overall HSC result.
At the end of Year 12, a graduation ceremony is held. The Board of Studies NSW issues the Higher School Certificate directly to each student, by the end of the year.
2021 Fees
AUS$ 3,000 Application (Non-refundable) + Enrolment (per family
non refundable upon acceptance)
AUS$ 29,800 per year Annual Tuition for years 11 and 12
AUS$ 1,200 Events (annual carnival, dance party, external tests)
AUS$ 70 per month overseas Students Health Cover
(International students only)
For homestay including meals please enquire
For more information, please contact StudyAustralia EU <- click for e-mail