Cambridge International College (Melbourne) Victoria
Welcome to Cambridge International College (CIC), where we are committed to making your study experience as rewarding as possible. Cambridge International College was founded in 1995 and has provided thousands of students and trainees with quality English language and vocational education programs.

Our courses are designed by highly qualified staff with extensive industry and teaching experience ensuring that your learning experience is of the highest quality. In addition to providing high quality education we provide student support services and opportunities to participate in social activities to enhance your study in Australia experience. We trust that your time at Cambridge International college is an unforgettable life experience!

Cambridge International College (CIC) offers English language, Vocational Education and Training (VET) and Higher Education courses. The colleges are based in Melbourne, Adelaide and Perth. All campuses are conveniently located in the Central Business Districts (CBD) of each city.

In addition to being conveniently located, campuses are equipped with modern style classrooms, library resources, student recreational areas including kitchen facilities and computer labs with free access to internet and email. CIC regularly organises extra activities outside of class, which give students the opportunity to discover some of Australia's most beautiful places. Other activities include Conversation Club, Movie Club, Job Club and group sporting activities. The atmosphere at CIC is very student friendly. CIC teachers and student services staff are always happy to help students with any problems they may face and we work to make them feel at home in the CIC family.

Melbourne is the capital of Victoria and is a fantastic study destination. It is a multicultural and cosmopolitan city that maintains a student friendly environment which is safe and offers affordable living. In addition, there are many beautiful parks and gardens, which scatter the city and its surrounds while boasting an enormous range of restaurants serving Australian and international cuisine. Melbourne's weather is very temperate, meaning it is never too hot or too cold. The city is also close to many of Australia's beautiful beaches and national parks and offers ready access for scenic trips like the Great Ocean Road or Phillip Island.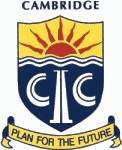 Study at Cambridge
International College
Melbourne
Cambridge International College (CIC) provides students with a range of Higher Education, Vocational and English language programs designed to prepare students for higher education and future employment. The courses at CIC are delivered and assessed by qualified staff with extensive industry and training experience, ensuring student satisfaction and positive learning outcomes. For students interested in further education, CIC offers students a number of excellent pathways to Australian Universities, Government TAFEs and other private education providers, each offering a range of different degree and vocational qualifications.

CIC is a CRICOS Registered Training Organisation (RTO) that meets federal and state educational standards. CIC observes compliance as quality requirements of the Australian Qualification and Training Framework (AQTF) standards that have been in place by state governments. CIC delivers Nationally Recognised Training package qualifications taught by qualified trainers and teachers to students and trainees. In addition, CIC compliance is regularly monitored through external audits by various government departments.

Cambridge International College (CIC) has an excellent reputation for offering an extensive range of high quality English language courses to students from over 40 different countries. Designed to suit students with a variety of study requirements, these programs include General English which is taught from Elementary level through to Advanced level. Skills learned and enhanced in the General English Program lay solid foundations for further progression to our more specialised English language courses including Academic English, IELTS Preparation, Business English, Certificate IV in Teaching English to Speakers of Other Languages (TESOL) and the Cambridge University exam preparation courses.

All of the full time courses include 20 classroom contact hours per week PLUS up to 5 extra hours FREE. These EXTRA classes comprise hour long sessions in areas such as Pronunciation, Grammar, Listening and Discussion and are designed for specific levels. In addition, there are FREE tutorials enabling students to study one-to-one with their teacher or in very small groups.
TUITION FEE*
AU$ 15,500 Bachelor courses per year
AU$ 3,800 AU$ Diploma courses 2 terms
AU$ 3,800 AU$ Certificate courses 2 terms
AU$ 245/wk General English

*the tuition fee includes:
• tuition fee for the entire program

*the tuition fee DOES NOT include:
• registration fee AU$ 250
• visa fee and residence permit fee
• health insurance AU$ 50/month (approx.)

Accommodation
200 AU$/week Home stay
240 AU$ Placement fee (non-ref.)