Cairns College of English (Cairns) Queensland
Come enjoy the best of everything in Cairns whilst studying the English language with Cairns College of English the most centrally located English Language school!

Surrounded by tropical rainforest and less than 25 kilometers from the Great Barrier Reef, students at Cairns College of English can go hiking, bungee jumping, scuba diving or simply relaxing on the beach. Cairns is a small vibrant city with plenty to do and see, and the Cairns College of English is in the middle of it all.

Cairns is a small, clean and relatively safe city of over 150,000 people, and Cairns College of English is right in the centre of it all. In Cairns there are post offices, newsagents, banks and grocery stores only metres away from the school, and the city's main bus stop is literally outside the school's door. Cairns has countless takeaway shops, restaurants, pubs and cafés featuring foods from all over the world. Other attractions include a library, a casino, and a local museum, as well as cinemas, art galleries, night clubs and souvenir shops.

Cairns is home to the world famous Great Barrier Reef and timeless tropical rainforests, the Tropical North is a frontier land with golden beaches, exotic islands, majestic mountains and breathtaking landscapes.

Did you know that Queensland is the 'smart state'? In addition to beautiful weather and beaches, Cairns also offers several tertiary study options, such as James Cook University and TAFE. So what are you waiting for? Check out our English Language Courses and English Study Tours and enroll today for a learning experience in Australia that you will never forget!
For more information, please write to StudyAustralia EU <- click for e-mail
Also see the Cairns College of Business programmes page available on this web site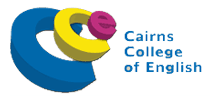 Study English in Cairns with Cairns College of English.

General English (Fulltime and Part-time)
For developing skills in speaking, listening, reading, writing and grammar. There are levels from beginner to advanced.
Fulltime suitable for students on a student visa as their principal course, part-time not.

English for Customer Service
For students who want to learn English necessary for the hospitality industry. Includes work experience to develop the skills needed to work in a bar or restaurant. Coffee making and bar training included. Includes RSA Certificate.
Not suitable for Student Visa holders as their principal course

Exam Preparation
For students who want to learn test-taking skills and practice academic vocabulary through reading, writing, listening and speaking. The course teaches specific strategies for each section of the test.
Suitable for Student visa holders.

TUITION FEE (2022 prices)
Fulltime General English
AU$ 400/week for 1 – 4 weeks plus AUS$ 50 for materials
AU$ 390/week for 5 – 12 weeks plus AUS$ 100 for materials
AU$ 380/week for 13 – 23 weeks plus AUS$ 150 for materials
AU$ 370/week for 24+ weeks plus AUS$ 200 for materials

AU$ 340/week Part-time General English plus materials cost
(see above)

AU$ 400/week 10 wks Cambridge exam preparation
AU$ 390/week 12 wks Cambridge exam preparation

AU$ 400/week 1 – 4 wks IELTS preparation plus AUS$ 50
for materials
AU$ 390/week 5 - 12 wks IELTS preparation plus AUS$ 100
for materials
AU$ 380/week 13 – 23 wks IELTS preparation plus AUS$ 150
for materials
AU$ 370/week 24+ wks IELTS preparation plus AUS$ 200
for materials

Pocket money and personal expenses are not included